Moulding Expo Stuttgart 2021
May 2021
with VDWF joint stand
The Molding Expo is the showcase of tool, model and mold making - in the middle of the largest market for industrial goods and on the most beautiful and modern exhibition center in Europe.
---
Voices to the Molding Expo
Here you can see and hear statements about the Molding Expo
---
---
Present yourself to the market on more than 1000 m²!
The trade fair appearance of the VDWF is one of the biggest at the Molding Expo. Join in and benefit from a professional appearance.
---
Das Ausstellungssystem des VDWF: Der Auftritt passt!
Mit dem modularen Ausstellungssystem lassen sich unterschiedliche, auf die Bedürfnisse des jeweiligen Ausstellers abgestimmte Konfigurationen realisieren. In den Abbildungen sind einige Beispiele zu sehen.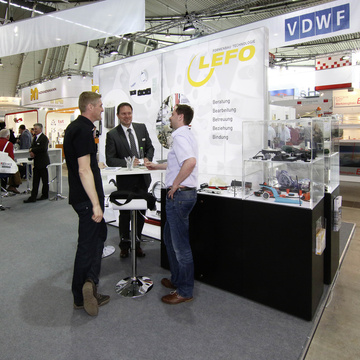 ---
Book your registration?
Are you interested and would like to book your exhibition stand now? Please use the following form - we will consider your request as soon as the booking is possible.